Infinity Auto Salvage

2091 Bay Road
East Palo Alto, CA
(650) 323-8588
parts@infinitysalvage.com

WE RECYCLE YOUR UNWANTED AUTO
USED CARS & PARTS
Infinity Salvage is committed to helping keep our environment clean
by recycling your unwanted auto.
Infinity Auto Salvage pays
$1,000
FOR QUALIFIED 1996 OR OLDER CAR/TRUCK/VAN
(some restrictions apply - purchased vehicles will be recycled)
For More Information Please Call Environmental Engineering Studies
1-855-343-7314
www.oldcarbuyback.com
This voluntary program is sponsored by the Bay Area Air Quality Management District.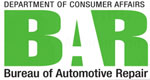 HAVE A CAR THAT WON'T PASS SMOG CHECK?
Your car may be worth $1,000 - $1,500 under a
California Department of Consumer Affairs program.
CARS THAT PASS SMOG MAY BE ELIGIBLE FOR THIS PROGRAM.
(Income limitations apply.)
Questions? Call 866.272.9642 or visit
www.smogcheck.ca.gov to determine eligibility.
Infinity Auto Salvage is a Bay Area, California auto recycler, dismantler and used part yard located in San Mateo county. Infinity Auto Salvage has an inventory of early and late model foreign and domestic used cars and a helpful, courteous staff.
© Copyright 2020, Infinity Auto Salvage
www.infinitysalvage.com